Virtual Open Garden at Terroux
A message from Barbara and Peter
After such a cruel summer Australia wide, we would have liked to invite everyone in the region to share the beauty and serenity of the gardens at Terroux. However, now that we are all confined due to COVID-19, this is not possible.
Ironically, the Indian summer has meant that the roses and other plants have been magnificent. It has been decided therefore that Terroux will hold a virtual open garden which you can visit as many times as you wish until the day arrives when we can all meet again in person and enjoy a cup of tea from Barbara's mother's beautiful crockery.
Sadly also, our winter fireside gatherings with writers are on hold. This is very disappointing after a wonderful series in 2019, but please be assured that, once we are in the clear, we will resume and will send invitations to people on our mailing list, post to this website and advertise via the usual community listings. We look forward very much to welcoming you to Terroux again and send our wishes to everyone to stay healthy and hopeful.
Garden Notes
Peter and Barbara moved into their home in 2006. The name of their property Terroux comes from Peter's mother's maiden name. It is very special to both Barbara and Peter, as they both love the land and appreciate the special and important connection that human beings have with it.
When they moved in, it was a bare hillside with half a dozen gum trees and a big erosion gully. Since that time Peter has planted thousands of trees, shrubs and flowers. The garden rambles and stretches over approximately four and a half hectares, from the immediate garden around the house to a pine nut plantation, a labyrinth and a Japanese garden.
The garden around the house has many rooms and features, a secret garden with a traditional fountain, a reflection pool, an enclosed garden full of Mr Lincoln roses, a Mad Hatters tea party and a dry creek bed. It is a garden of discovery as you wander through, an evolving experience with water features, and quirky pieces of art which will delight adults and children alike.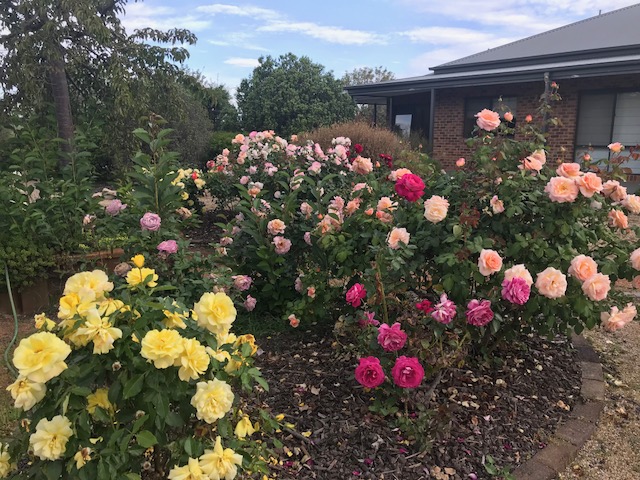 The garden has many gravel paths revealing diverse plantings including hedges of flower carpet roses, callistemon, conifers and photinias. and the dry creek bed surrounded by natives.
The extended garden evolves into parklike areas with three dams each of different designs and plantings: one flows over to a wetland, with a bridge over the creek, another has a terraced garden and the last one is a Japanese garden with many cherry blossom trees and Japanese maples. There are also family and memorial gardens. The garden's extensive park-like setting is enhanced by a backdrop of the Brindabellas.
Peter is passionate about restoring the land and breathe life back into the soil. He continues to plant as many trees as he can to put back carbon into the ground and is planting for future generations to demonstrate how you can bring about change on both the micro and macro level.
Our garden is very different from other gardens, both in size and content. It has been drought proofed by using plants that are very hardy and require low maintenance and minimal amounts of water. One of the biggest challenges has been the quality of the soil. It is a heavy clay base that makes it difficult for trees and plants to become established.
Peter has used many tonnes of horse manure to assist in breaking down the clay. The other difficulties are both the wind and the lack of rain as we are largely dependent on rain and some surface water. To overcome this, we have planted wisely and created point of interest around the garden with art works and a dry creek bed.
Personal Reflections
Many parts of the garden are dedicated to family, past and present. These bring immense personal joy, evoking memories, none more so than the memorial garden area.
As you enter through an archway that we call the cathedral, immediately to the right and left are trees planted for Barbara's two sons and their children. Further down there are trees for Peter, and his two children. In front of the archway is 'Mum's Garden', created in loving memory of Eileen Marj Baikie 10.6.1915 – 11.1.2010.
In this garden you'll find a combination of Peace and Queen Elizabeth roses, as Barbara's Mum was an unshakeable Royalist. There are also gladioli, which were Barbara's Dad's favourite flowers. There are also yellow Daisies which came from a cutting in Peter's fathers garden.
Nearby is the Roman labyrinth comprising four quadrants corresponding to four identical labyrinths visited in sequence. The aim is to bring a sense of peace and calmness to the person who takes the time to walk it. The entrance is on the eastern side of the labyrinth.
Joe's Garden is also nearby. This is in memory of Barbara's son Joe Howard 12.9.78 – 22.2.2013. and is based on a circle, representing the circle of life. It is divided into quadrants, with pathways in between facing, North, East, South and West
In each of the four gardens there are 25 roses. The first garden is Mother's Love, the next is Remember Me, the third Fearless and the last Golden Child. The inner most contains Just Joey roses.
In the middle of the garden is a beautiful sculpture by Grahame Radcliffe. It reminds us of an Eagle about to fly or an Angel visiting. On the side of sculpture there is a round hole that extends through the sculpture. For Barbara this represents the hole in her heart from the loss of Joe. This is a beautiful space for contemplation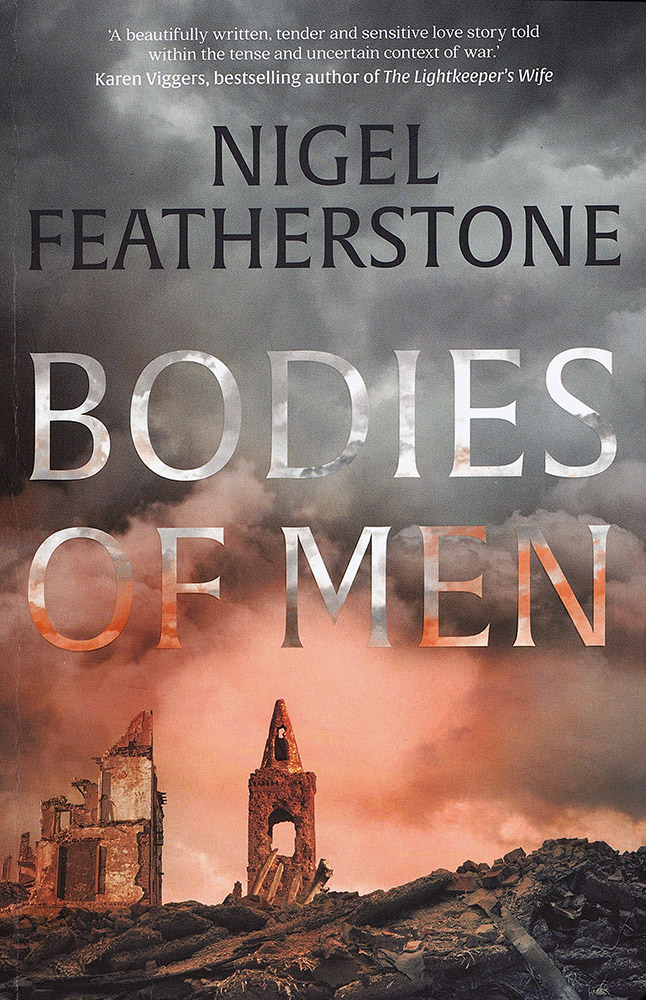 Further down the hill from the house is the Peace Garden. There are 30 Peace roses planted by people who attended our peace winter fireside chat with author Nigel Featherstone, introducing his beautiful book, Bodies of Men.
The Japanese garden, where Peter has built a pagoda over the water, will delight us with its many cherry blossoms next spring and the Japanese maples will be spectacular in autumn.